Last year I saved about $1,000 on my heating bill. I'm buying another this year!Bob J.
This month last year was not near as cold as this year and I saved almost $50.00.D. La Bolle
It works great! For the first time I have a very warm room!Vickie T.
The ultimate in toasty warm, economical heat
Cut your heating costs by as much as 50%!
Enjoy quality family time in toasty warm comfort! Up to 80% of the heat produced by these systems is absorbed by the objects in a room. Instead of heating the air, infrared heats objects, which in turn radiate heat back into the room. This can cut your total heating cost by 50%!
Infrared Heaters start at only $199 with FREE SHIPPING!

Portable Heat at a Small Price
Infrared heat is safe, convenient, affordable and healthy, too!
SpendLessOnHeat.com president Jeff Backer explains the benefits of using portable Infrared Heaters over conventional methods.
Summer is over, leaves are falling and cold days are fast approaching. With winter comes drafty rooms and those dreaded high energy bills. There are many steps that can be taken in a home to improve efficiency and lower utility costs, but one of the simplest and most economical choices you can make comes in the form of a 20 pound box that ships right to your door!
Perfect Heat Infrared Saunas
Burn calories and improve your health while you relax!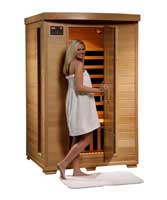 Perfect Heat Far-Infrared Saunas aid in detoxification, relaxation, skin rejuvenation, weight loss and muscle therapy. Infrared Waves help ease pain, melt away stress, reduce blood pressure and can burn up to 600 calories while you relax! Empower your wellness for as little as 14¢ per relaxing half-hour session.
See the complete line today... as low as $839.95 with FREE SHIPPING!